Nutanix Xtract

Virtual machine migrations and database transformations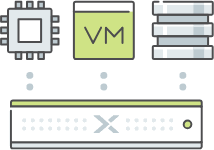 Simplify migrations to Nutanix Enterprise Cloud
Nutanix Xtract streamlines adoption of new IT infrastructure technology by providing infrastructure-centric and application-centric migration tools, and automating the many steps required to manually migrate or rebuild VMs and applications to new infrastructure
Split into two technological approaches, Xtract for VMs automates "lift and shift" VM migrations, whereas Xtract for DBs migrates full database instances at the application-level. Both technologies enable easy adoption of Nutanix Enterprise Cloud for existing workloads:
Easy migrations with one-click simplicity
Near-zero application or VM service outage, with full cutover control
Enables migration testing, increasing assurance of migration success
Cost efficient, as licenses are included with all Nutanix software editions
Simple VM Migrations
Adopting new infrastructure platforms against tight timescales will often require organizations to migrate pre-existing workloads. Nutanix Xtract simplifies this process with infrastructure-level bulk VM migrations, removing the friction associated with onboarding new IT infrastructure, and enabling businesses to quickly leverage the full potential of Nutanix Enterprise Cloud, with near-zero VM or application service outage during migrations.
Xtract provides granular, project based control via an easy to use UI for automated workload migrations in a simple three-step process.

Define the migration plan
Specify the source cluster with VM selection from individual VMs through to a whole vCenter, and specify the target Nutanix AHV infrastructure and any VM network mapping.

Migrate with minimal downtime
Non-disruptive replication of VMs via VMware's VADP ensures consistent and efficient replication. Whether VMs are powered up or off, they are kept up-to-date until ready to cutover.

Cutover
Automatic AHV device driver injection and complete cutover process control keeps application and business disruption to a minimum. Cutover is quick, requiring just a source VM shutdown and reboot of the new VM.